Reformation and For Love & Lemons are two brands that I have been extremely excited to shop from for a good two years now. I've been browsing and tempted to buy a lot of things, mainly since they are both ethical and sustainable brands, I really wanted to support them and spend some money. In the end, I am generally trying to buy less and when I do buy things, they are something I truly need. So, instead of buying statement pieces from these brands, I opted for more basics (I'm trying to build up my basics wardrobe since I have plenty of statement pieces already).
In the end, I only bought one item from each brand, hence why I combined the brand reviews together into one big one. I always post shorter blog posts so I thought of making a longer one this time around. So, there are two products I will be reviewing – one from each brand.
Starting with Reformation, their dedication to being a sustainable fashion brand is what caught my attention when I was aimlessly browsing online clothing shops. On their website, they talk about their fiber standards, why they prefer certain types of fabrics over others, and how they use deadstock fabrics as well. Overall, after learning more about fast fashion this past year, I've been trying to find brands which are much more sustainable, so, when I found Reformation (and realised how popular they were on YouTube), I was ecstatic.
Generally, Reformation sells expensive products. Usually, I'd complain about how expensive they are BUT they are sustainable (and from what I understand, they are ethical as well), so, I understand why they are so expensive. So, since they are ethical and sustainable, I am personally willing to pay for their products.
Shipping is great! If you are not shopping in the USA, then international shipping to most countries is free! Since shipping was free, if I was to buy a more expensive piece I truly wouldn't mind since shipping is free. Of course, I live at the bottom of the world so shipping does take time. Usually, it takes about 2 weeks to receive any packages from the USA, and that's more or less how long it took for my item to get delivered to me.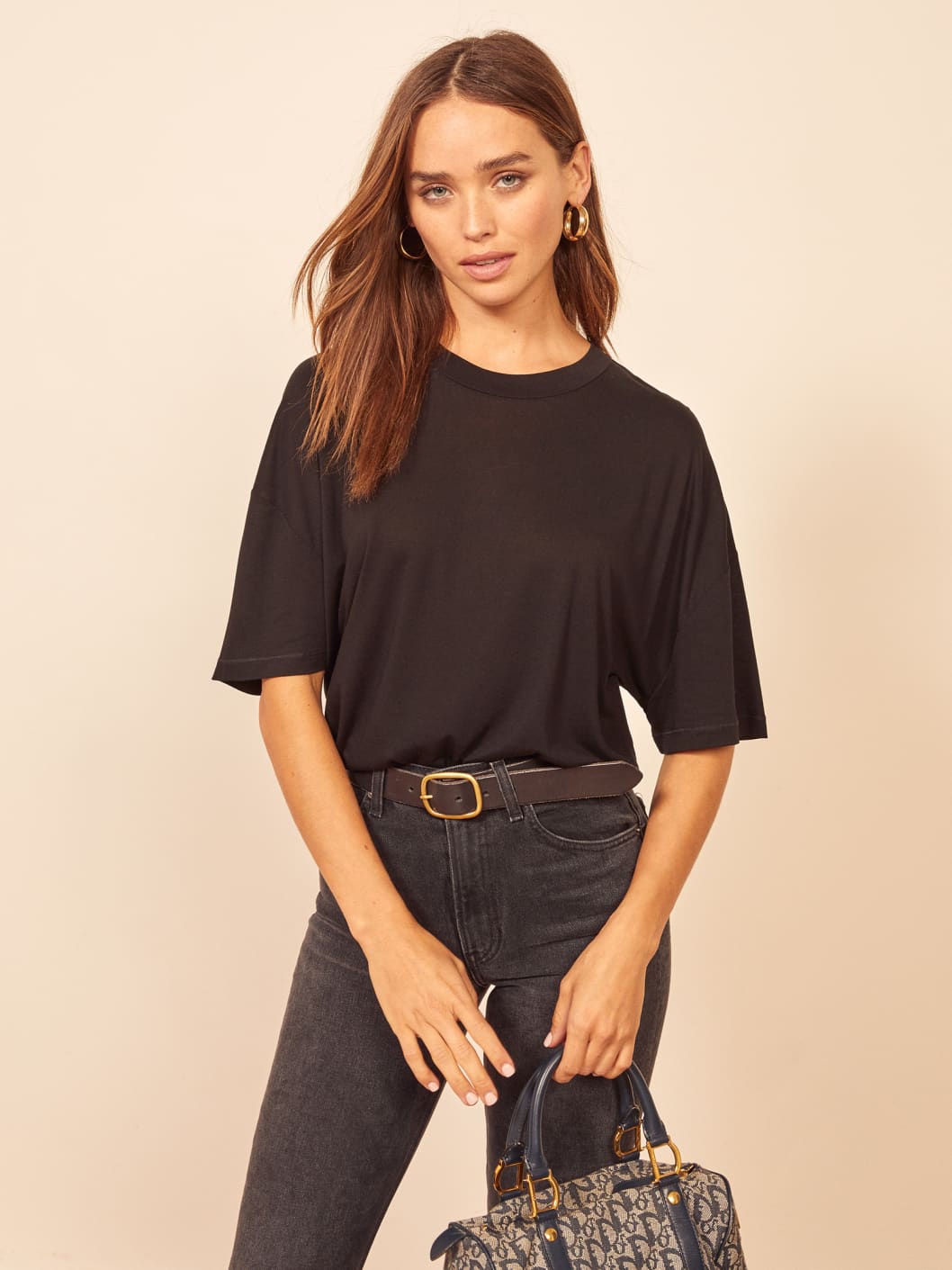 Now, on to the actual item I bought from Reformation: a basic black top. Let me explain, Reformation has plenty of gorgeous dresses that I really wanted to buy. However, as much as I wanted those dresses, I didn't need them, I had no occasion I needed to shop for. Also, my goal for the next while is to build up my basics wardrobe. Over the years I have bought plenty of statement pieces but my basics is lacking. So, a black top is really all I needed.
So, the basic black top is the only thing I bought and it is almost literally, the softest shirt I own. It also feels like it's a good quality shirt. The fit is slightly oversized (I bought the wrong size so on me it's too oversized, but that's my own fault). I like wearing it tucked into a pair of high waist jeans, so even though I got the wrong size, I can still make it work and so it's not a waste. I bought this during a sale earlier in 2020. I don't remember the sale price but the website has the full price on the website.
Note: currently this top is out of stock.
Overall, my purchase from Reformation is satisfactory and I'll most definitely buy some dresses from their website in the future when an ocassion arises.
---
Now on to For Love & Lemons. This brand is female-founded and 100% female-led (according to their website linked here). Their website provides a picture, name and description of their team and their dogs, so if you want to know more, that link has it all. Also, like Reformation, For Love & Lemons also aims to be ethical and sustainable. While they are not 100% sustainable, they have taken steps to be more sustainable and eco-friendly, which you can read more about here.
An important note about being ethical, some of their products are made in factories in China, however, their website states that the factory they use is not a sweatshop and is following strict standard for cleanliness, safeness and that the workers are provided with fair wages. Also, they work with another company (Bennett and Company) to help them ethically and sustainably keep up with demand. Overall, For Love & Lemons have done nothing which makes me think that they are lying about this. So, I have chosen to trust them that they are ethically made.
One more thing I want to talk about For Love & Lemons is that they are very aware of social issues and diversity. During the Black Likes Matter movement, For Love & Lemons have taken steps (here on their website) to ensure that their team is more diverse, that all their employees are educated and trained about racial justice and equality. They also have worked to put BIPOC voices front and centre. Of course, they have also donated some of their sales profits to charities and organisations which deals with racial justice.
Price-wise, For Love & Lemons, is also expensive. Their clothing is priced more or less in a similar way Reformation's clothing is priced. I personally feel that their lingerie piece are a bit overpriced, however, again they are an ethical and sustainable brand so I'm still willing to buy from them. But, this is a personal choice. Just to add I did shop from this brand during their Anniversary Sale.
For shipping, I got my package 4 days once it was shipped. 4 days. 4 DAYS! I live at the bottom of the world and the For Love & Lemons warehouse is in LA. I was absolutely blown away by how quickly I received my package. I do want to note that it did take them about a week for them to confirm and actually ship my item, to begin with. So, altogether, it still took under 2 weeks to receive my package.
So, on to the actual item I bought, it's also black (don't blame me, black goes with everything okay), and it's the Melrose Bustier. This brand also has absolutely gorgeous pieces and I really wanted to buy myself an entire lingerie set, but I really just needed some basics so I kept it simple. This bustier is technically considered as lingerie, but I thought I could wear it as a crop top instead. It's soft and feels slippery and after a quick examination, the quality seems expensive and nice as well. I haven't tried it on yet, but I bought an XS and that should fit me but I'll update this blog once I try it out.
Now, I bought this during a sale, and for the sale price, I feel that the quality was worth the price paid.
My only issue is with For Love & Lemons is not really with the brand itself, it's more of an issue with their collaboration partner: Victoria's Secret. I won't go into too much detail, so all I'll say is that VS has a history which I do not support at all. So, while I do love For Love & Lemons, I do feel like of icky that they work with VS.
Overall, For Love & Lemons have very feminine and gorgeous prices. I really do want to buy more piece from here in the future, but I am a bit hesitant because of their association with VS.
That's it for my double review! If you've bought anything from these brands let me know! I'd love to know what you picked up. Until the next post, thanks for reading and, I hope you all have a lovely day.
Click here for BLM resources.
Remember to follow your city/ country's COVID-19 regulations.
Update: I tried on the For Love & Lemons piece, it almost fits perfectly. The cups/ chest area doesn't fit 100% perfectly on me, it's not uncomfortable I think I just need to adjust the straps properly, but it is slightly annoying. Overall, I am happy with the purchase, it looks lovely on!